Based on the research of Dr. Brené Brown
"We need to have honest conversations about what it takes to bring our best, most authentic selves to work, and how to effectively encourage our colleagues to do the same. We need to understand the human side of cultivating an organizational culture where people feel inspired and supported. These conversations may sound risky and vulnerable, but risk and vulnerability are essential to courageous leadership. Real change and innovation are within our reach if we're willing to talk about the emotions, thoughts and behaviours that get in the way."
– Brené Brown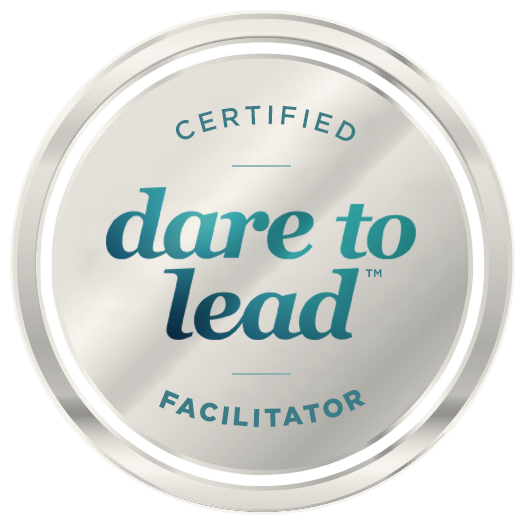 About The Dare To Lead Program
Based on the research of Dr. Brené Brown, Dare to Lead™ is an empirically based courage building program designed to be facilitated by organizational development professionals.
The most significant finding from Brené's latest research is that courage is a collection of four skill sets that are teachable, measurable, and observable. The Dare to Lead™ program focuses on developing these courage building skills through workshops, trainings, and coaching to help individuals, teams, and organizations move from armored leadership to daring leadership.
Individuals who successfully complete the full 24-hour Dare to Lead™ program will receive a certificate of completion and are allowed to put the Dare to Lead Trained badge on their LinkedIn account.
Further information is available at daretolead.brenebrown.com
Leadership is a practice of courage. However, in her research Brené Brown, identified 10 behaviours and cultural Issues that leaders identified that get in the way of healthy and courageous cultures. The common thread is how leaders and teams deal with fear, uncertainty and disconnection.
We avoid tough conversations, including giving honest, productive feedback.

Rather than spending a reasonable amount of time proactively acknowledging and addressing the fears and feelings that show up during change and upheaval, we spend an unreasonable amount of time managing problematic behaviours.

Diminishing trust caused by a lack of connection and empathy.

Not enough people are taking smart risks or creating and sharing bold ideas to meet changing demands and the insatiable need for innovation.

We get stuck and defined by setbacks, disappointments, and failures, so instead of spending resources on clean-up to ensure that consumers, stakeholders, or internal processes are made whole, we are spending too much time and energy reassuring team members who are questioning their contribution and value.

Too much shame and blame, not enough accountability and learning.

People are opting out of vital conversations about diversity and inclusivity because they fear looking wrong, saying something wrong, or being wrong. Choosing our own comfort over hard conversations is the epitome of privilege, and it corrodes trust and moves us away from meaningful and lasting change.

When something goes wrong, individuals and teams are rushing into ineffective or unsustainable solutions rather than staying with problem identification and solving. When we fix the wrong thing for the wrong reason, the same problems continue to surface. It's costly and demoralizing.

Organizational values are gauzy and assessed in terms of aspirations rather than actual behaviours that can be taught, measured, and evaluated.

 

Perfectionism and fear are keeping people from learning and growing.
Courage building includes four traits and skills – rumbling with vulnerability, living into our values, braving trust and learning to rise. The curriculum of this program helps build awareness of self and others and provides tangible skills and practices to apply every day.
We deliver Dare To Lead™ programs in a number of ways:
Inclusion in individual Executive and Leadership coaching programs

Workshops for intact teams – we deliver the curriculum over a series of sessions and coach your team on how to apply it in your relationships and organizational culture

Group Workshops for Leaders – an excellent addition to leadership development programs offered by organizations

Customized retreats – please let us know what you are dreaming up and how we can weave courage-building into your experience
"Our work with the Dare to Lead principles was not only fun but challenging in a very positive way. Overall, my leadership growth would not have developed as far without SalesWise's partnership."